Mounting Kit, 40~50t Capacity
For 40t~50t
SKU: M-CSC2-50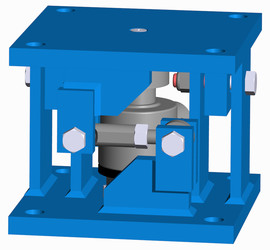 Severe Environment Mounting
This type 2 mount is ideal for tanks and hoppers with higher loading or overturning potential and offers up to 50kN restraint horizontally and 100kN uplift restraint while allowing the load cell freedom to accurately measure the load. The mount is fixed horizontally in one direction while allowing limited movement at 90 degrees for expansion.
To provide full horizontal restraint of the weighing vessel the type 2 mount can be used in multiples or can be used together with the type 3 mount (note the different fixing dimensions.)
The mount is easily installed and protected with a durable 2 coat paint system meeting ISO12944/C4, medium exposure, for extended life.
Mount shown with load cell fitted for demonstration purposes only. Load cell ordered separately.
To complete your installation